Focusing on Global Black COVID-19 News and Introducing Our New Contributing Editor
Plus, African nations begin study of antibodies, economic and racial divide in French health care revealed, Brazil favelas are left to fight alone, coronavirus is gutting diversity in science & more.
Speak Patrice Presents: Coronavirus News for Black Folks is an independent newsletter that aims to empower our community by sharing coronavirus (COVID-19) news and stories as they relate to the Black Diaspora. We have 1,836 subscribers as of August 14, 2020. Please consider (1) clicking that itty bitty ❤️ at the top of this email next to my name to "like" us, (2) subscribing, and (3) supporting this newsletter by sharing it with your friends and family.
---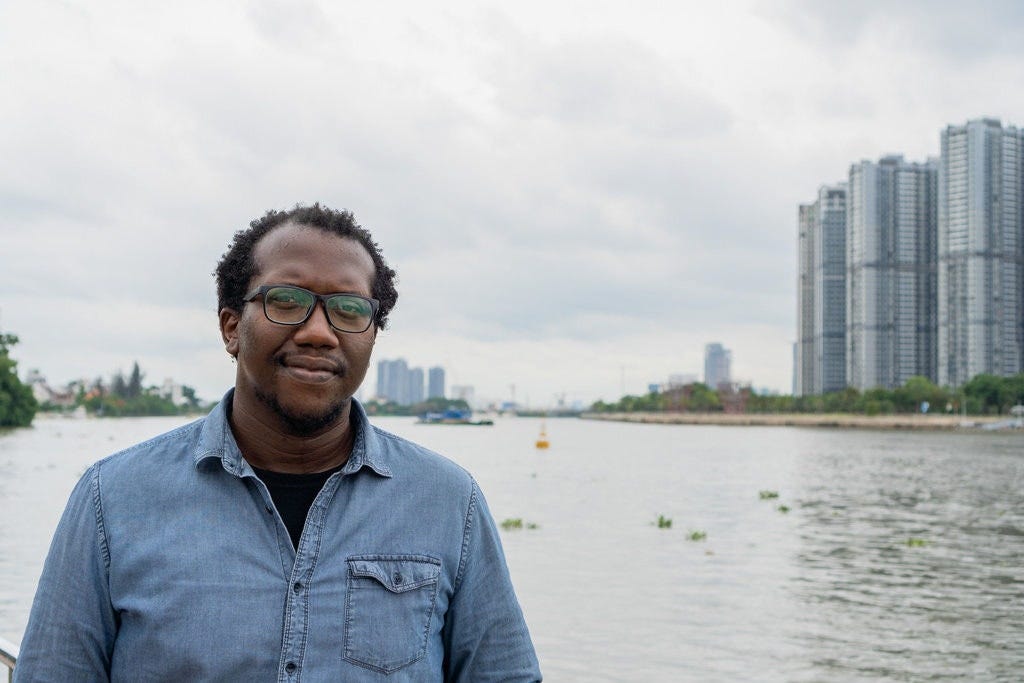 Photo by Michael Tatarski
ALLOW ME TO INTRODUCE MYSELF…
Hi subscribers! Clydeen McDonald here, a Trinbagonian journalist based in Ho Chi Minh City, Vietnam, starting today as a contributing editor of global diaspora news for Coronavirus News for Black Folks.
As a native of Trinidad and Tobago who has worked in newsrooms across the Caribbean and Latin America, I feel as close to the Caribbean community and diaspora as I feel to the African diaspora at large. My decade-long career as a reporter, field researcher, and fact-checker includes covering migration, drug, and human trafficking, and the FIFA corruption scandal (among many other topics) for publications like The Wall Street Journal and The Guardian, all of which have granted me a unique perspective. Namely, I can quickly identify stories coming out of Latin America and the Caribbean that are grossly underreported, if at all.
At the start of the pandemic, frustrated with the Caribbean being excluded from many international COVID-19 data sets, I launched the Caribbean COVID Map a unique case and death tracker with Vincentian software engineer Janique-ka John. Since then, I have worked on coverage of the pandemic as a contributor to the politics Twitter account @KevzPolitics, where we've covered elections, the pandemic, and news throughout various Caribbean nations.
As the pandemic continues to impact communities within the African diaspora in unique ways, we're going to experiment with publishing a weekly issue dedicated solely to coronavirus and pandemic-related news happening outside of the U.S. as it directly relates to Black communities in Africa, Asia-Pacific, the Caribbean, Latin America, Australia, and Europe. (We'll still have a separate weekly issue dedicated to U.S. national and local news.) With this global diaspora issue, we aim to be comprehensive and inclusive, sharing aggregated reports of confirmed cases and deaths as well as articles, essays, videos detailing the economic, political, and social effects of the pandemic and underrepresented perspectives and voices.
That being said, we're keeping you all, the newsletter audience, top of mind. So, what themes should we explore? What nations or regions would you like more coverage of? We'll pivot and iterate accordingly each week. Please let me know what you think about today's inaugural issue in the comment section or simply by replying to this email. Thanks!
---
MUST-READ STORIES
Africa begins continent-wide study of COVID-19 antibodies
"An Africa-wide study of antibodies to the coronavirus has begun, while evidence from a smaller study indicates that many more people have been infected than official numbers show…Experts are eager to know the real number of COVID-19 cases in Africa, as confirmed cases and deaths have been relatively low on the continent of 1.3 billion people. Poor data collection, however, has complicated efforts."
—
Ethiopian Workers Are Forced to Return Home, Some With Coronavirus
Unemployed and shunned as possible coronavirus carriers, Ethiopian migrant laborers are returning home by the thousands, placing a huge strain on Ethiopia's poorly equipped medical system. More than 30,000 workers have re-entered Ethiopia since mid-March, according to the government, some of them after suffering abuse and detention in unhealthy conditions in the countries they left, often on the Persian Gulf or in other parts of Africa."
RECOMMENDED: They were laid off and far from home. Now an explosion in Beirut has left them even more vulnerable
—
Rio de Janeiro's Favelas Were Already Facing More Police Violence Than Ever. Then Coronavirus Hit
"Not only did COVID-19 and its economic consequences devastate Acari this year, but police violence worsened. In the first five months of 2020, Rio de Janeiro reported 741 deaths as a result of police activities, the highest number in 22 years."
—
In Photos: 'COVID' is Cape Town's New Informal Settlement for Those Displaced by the Pandemic
"A group of Cape Town residents, many of whom lost their jobs due to the impact of the Covid-19 pandemic, have built a new informal settlement now known as COVID. Despite a government ban on evictions while the country is in lockdown, many residents of Cape Town's townships are not seeing the protections promised and are finding themselves harassed by landlords out of their homes in the midst of the crisis."
—
Virus exposes economic, racial divide in French health care
"Last October, France's top official for defending citizens' rights reported that it is 6.5 times harder for people with "Muslim African names" to get psychiatry appointments than others. Despite calls by the government human rights watchdog to investigate discrimination in health care, there is little research on the topic because race-based research runs against France's doctrine of colorblindness."
—
'It's like we're going back 30 years': how the coronavirus is gutting diversity in science
"Years of slow improvement in diversity and inclusion in science could come undone because of the COVID-19 crisis. In a June letter to Nature Ecology and Evolution1, 19 researchers from around the world warned that job losses during the pandemic might pose 'disproportionate existential threats' to researchers from under-represented groups, including women, people from minority ethnic backgrounds and those who are financially disadvantaged."
---
AFRICA NEWS
Africa's toughest battle with Covid-19 is getting enough tests done
"Over the past 175 days, since the first case was confirmed in Egypt, the disease has spread to every African country, resulting in over 23,000 deaths. Yet, experts fear the worst is yet to come as there has been a notable 'acceleration' in the spread of the virus: confirmed cases more than doubled in July alone."
—
In Kenya, Maasai entrepreneur moves conservancy beyond tourism hit by pandemic
"Vital tourist dollars earned from lodge and camp stays, game drives, village tours and handicrafts have dried up, but 46-year-old Reiyia has turned the crisis into an opportunity and found other ways for the community to earn an income. 'We started the conservancy with the aim of doing three main things: conserve the wildlife, preserve our culture, and reverse poverty in our community'…"
—
Coronavirus and South Africa's toxic relationship with alcohol
"The ban has clearly alleviated pressure on the fragile health system, but from an economic perspective, it has been catastrophic."
—
Namibia's dairy industry fighting for survival amid COVID-19
"The COVID-19 pandemic means that milk producers can no longer depend on resources from elsewhere. It is, therefore, necessary to support primary production, so that sufficient raw materials may be available to the whole value chain."
RELATED: Namibia to close schools limit public gatherings
COVID-19: A threat to food security in Africa
—
Coronavirus: Fact-checking fake stories in Africa
"A voice recording endorsing various false conspiracies about the coronavirus pandemic has been attributed to the President of Ghana. We aren't sure who's speaking. It is a West African accent, but it is definitely not President Nana Akufo-Addo."
—
Young Africans "fault" officials for COVID-19 surge (AUDIO)
"Some African youths accuse their leaders of mishandling the coronavirus crisis - as infections on the continent have surpassed one million. They argue that the toll would be less if they had imposed lockdown in time."
—
"COVID-19 is fast-tracking digital transformation" and fuelling growth — Telkom CEO
"This demand has been spurred by the increase in people working remotely during the various levels of lockdown and their growing demand and adoption of digital and telecommunication services."
---
CARIBBEAN REGION NEWS
Haiti, Jamaica, Suriname, Trinidad & Tobago Record More Cases
The current case count in the Caribbean is Confirmed Cases: 128,592 with deaths: 2,092 as of Wednesday, August 12th, 2020. Please see the

Caribbean COVID Map

for more details.
"One person has died and 23 others have contracted the coronavirus (COVID-19) in Haiti over the past 24 hours as the country continues to outpace the region with positive cases and fatalities from the virus…The Ministry of Public Health said as a result of the new cases, the total has reached 7,634 cases since the first case was detected on March 19."
—
Children in the Caribbean and Central America face the dual threat of stronger hurricane season and COVID-19 UNICEF warns
"The children's agency is especially concerned that a powerful storm could severely undermine ongoing efforts to stop the transmission of the disease. The virus could spread easily in crowded emergency shelters or displacement sites where physical distancing would be difficult to ensure."
—
So far, so good for Caribbean Premier League COVID-19 tests
"The CPL said the teams will now be kept in quarantine in the official hotel for 14 days and undergo regular testing. If anyone from in the group is found to have contracted the coronavirus they will be removed from the hotel and placed in further isolation."
—
Saint Kitts PM Says Economy "Battered" by COVID-19
"We were right to pursue a strategy of risk aversion. The experience from the region and elsewhere attests to the correctness of our stance. Our strategy continues to be anchored on the carefully phased reopening of our economy and society."
—
COVID-19 Containment: The experience of Small Island Developing States (JOURNAL ARTICLE)
"Small island developing states (SIDS) have limited absolute resources for responding to national disasters, including health emergencies. Since the first confirmed case of COVID-19 in the Caribbean on 1st March 2020, non-pharmaceutical interventions (NPIs) have been widely used to control the resulting COVID-19 outbreak."
---
EUROPE & U.K. NEWS
Major Antibody Study Finds 3.4 Million in England Had Covid-19
"The findings included: Among the most likely to have been infected were care home workers (16%) and health care staff (12%). In the wider population, 17% of people from Black backgrounds and 12% of people from Asian groups were infected. People in the most deprived areas of England had higher antibody levels than those in the wealthiest areas."
—
Black people are biggest victims of Britain's COVID disaster
"The report also looked at perceptions of the government's Covid-19 response among BAME communities. It found that more than half of respondents (57 percent) thought the government had not done enough to protect BAME people from the virus, while 15 percent disagreed."
—
Black lives matter in Europe too
"The Covid-19 pandemic has thrown this racial inequality into stark relief. Numerous countries have reported significantly higher coronavirus death rates among minority groups. These include the US, where three times as many blacks have died of Covid-19 as whites, Canada, and the UK."
—
BAME people in Wiltshire 'twice as likely' to get Covid rules breach fines
"People from Black, Asian and minority ethnic backgrounds in Wiltshire were more than twice as likely to be fined for breaching Covid-19 lockdown rules than white people, new figures suggest."
---
LATIN AMERICA NEWS
The Ethnic Face of the Pandemic in Colombia
"COVID-19 has been progressing in hard-to-reach corners of the Colombian Amazon, evidences the enormous difficulties that Indigenous and Afro-Colombian people—many of whom also live in scattered rural areas—have in accessing specialized medical services. This ethnic gap is another face of inequality that the pandemic is revealing to us—or, rather, reminding us of."
—
Women Are Leading the Fight Against Coronavirus in Argentina's Vulnerable Communities
"The hardship is heavier for those in marginalized groups, including Indigenous women, women of African descent, migrants, and the trans community. Women are also on the vanguard of the battle against COVID-19. That's the case in Argentina, where they are feeding the hungry, paying house calls on the sick, toiling away in laboratories, and delivering essential health care."
—
Brazil: From pandemic to genocide
"With limited access to sanitation and adequate medical facilities, Black people in Brazil are at an incredibly high risk of suffering from COVID-19. The numbers bear this out; in hospitals, 55% of Black and mixed-race patients die compared to 38% of white patients. Economic and class discrepancies only increase disparity."
---
VIDEOS
Brazil's favela slums left to fight the coronavirus alone as Covid-19 spread continues in-country
"Brazil's crowded and impoverished slums known as favelas are depending on volunteers and local residents to fight the spread of the deadly coronavirus. As the nation struggles with the world's second-highest death toll from Covid-19, the government has largely abandoned the low-income neighborhoods, leaving people to fend for themselves."
—
The Afro-Ecuadorian community-fighting COVID-19 (CLICK LINK TO WATCH VIDEO)
"Lucciola Gonzalez lives in an Afro-Ecuadorian community in the south of Guayaquil. It is a place where daily necessities are in short supply and the crime rate is high. Her normal job, she works as a coordinator of a foundation which helps Afro-Americans in South America suffering from the COVID-19 pandemic. She has a very simple goal: If people in her community are fed, they would not be committing crimes and will not throw their lives away." (Click the headline above to watch the video. This is a screenshot below.)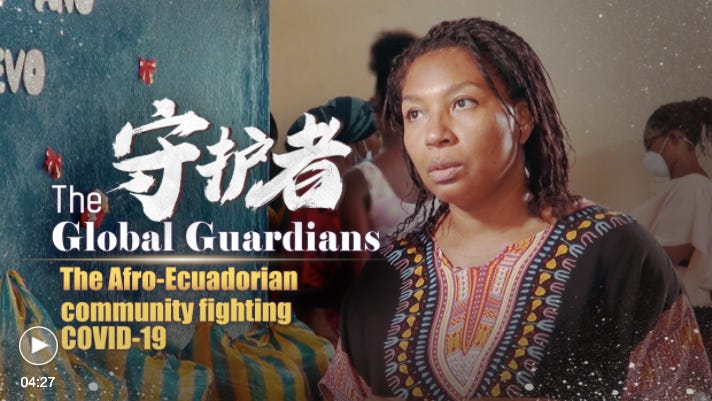 —
Black Americans, Black Brazilians Suffer More From COVID-19. Structural Racism Is To Blame.
"Brazil was viewed as a racial democracy, or basically as a non-racist society and a mixed-race, non-racist society. It's been much harder to talk about structural and institutionalized forms of racism. However, I think what we're seeing with the COVID-19 pandemic in both the US and Brazil."
—
Ghana hospital workers cash in on PPE amid coronavirus
"More than 2,000 medical workers in Ghana have been infected by coronavirus since the outbreak began. The country has faced a severe lack of essential protective equipment like face shields, masks, and suits."
---
NON-CORONAVIRUS NEWS, BUT IMPORTANT
In Ireland, Protests Spur Push for Hate-Crime Laws
"Last August, two Muslim girls were attacked by a group of teenagers in Dublin, who kicked and stamped on them, ripped off one victim's hijab and yelled racial and religious slurs. Local police said they didn't believe the attack was a hate crime. People of color in Ireland, many of whom are among the rising numbers of immigrants to the country."
—
Trinidad and Tobago poll: Governing party claims victory
"Trinidad & Tobago Prime Minister Keith Rowley appears to have secured reelection with preliminary election results Tuesday showing his party winning a 22-19 parliamentary victory in the energy-rich Caribbean nation mired in a recession."
Related: 58.04% voter turnout; EBC releases preliminary results
—
Jamaica Votes In General Election On September 3, 2020
"Both the People's National Party (PNP) and the Jamaica Labour Party (JLP) are expected to field a full slate of 63 candidates while the newly formed Jamaica Progressive Party could have candidates in two-thirds of the seats."
—
Jailed Zimbabwean journalist is denied rights, say lawyers
"Lawyers for a jailed Zimbabwean journalist have asked a court to force prison authorities to stop the 'blatant and malicious stripping away' of his rights, including lack of access to appropriate food and warm clothing."